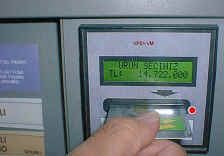 VPS 1 interfaces with a wide range of executive or electro-mechanically operated vending machines to either compliment or provide an alternative to conventional coin handling. VPS 1 accepts both ISO standards contactless and contact chipcards. Different configurations are available to provide users with a personal spend amount and/or a discounted, subsidised or department spend. These facilities might be used to offer free drinks at specific times on a specific vending machines or discounts on certain vends during set periods, plus many other options

Key Features
USC Reader:
Compatible with all synchronous & asynchronous smart cards
ISO7816 and EMV compatible
Human Body Model ESD resistant (15KV),
Compatible with 5v cards
Landing type reader

Contactless Reader:
Mifare Technology
ISO 14443 Compatible

Capable of handling 3 SAM modules:
ISO7816 and EMV compatible,
Compatible with 5v cards,

User Interface:
2x16 LCD with software backlight and contrast adjustment,
Sounder (400Hz to 8KHz),
4x4 Keypad.

Data Storage:
Up to 1Mbyte internal data storage, (solid state disk)
Up to 32K E2PROM
Processing Power:
16-bit core with suspend facility and RTCC,
256Kbyte Operating system (Flash, Field Programmable)
Communication Capabilities:
One IR receiver (for maintaining purpose),
One RS-232 compatible serial communication port,
One RS-485 compatible network port
Optional GPRS modem for mobile communication
Dedicated Connections:
Mars Electronic Protocol A compatible port,
Coin mechanism communication (10 Pin)
Electro-mechanic System Interface (4-Input 2-output)
Power Supply:
9V-35V DC,9V-24V AC.

Customer Benefits
Highly secure system with fast transaction times operating as stand-alone or as a part of a larger multifunctional system.
Total flexiblity with all the additional benefits of a system operating with cash in advance of purchases.
Providing additional options and facilities to vending machine users.
Cash reconciliation make easy and problems eliminated from lost or stolen cards

Market Sector Opportunities
Vending Machine Installers
Corparate and Campus Applications
Service Providers
Leisure Clubs
Hospitals
Shopping Centers